5 Health Benefits of Adult Martial Arts Classes
Top 5 Health Benefits of Adult Martial Arts Classes
When adults are looking for a martial arts training program they are typically trying to find a solution to a problem they are encountering. Perhaps it was a trip to the doctor's office and they recommended martial arts for overall physical health and wellness.
Maybe your spouse has noticed that things have been a little stressful with you at work and planted the idea of finding a positive outlet like martial arts to help you deal with the stress. There are so many reasons a person will get into martial arts training and those who make the decision to get involved realized there are numerous benefits to martial arts which we will outline below.
This is by no means an exhaustive list but here are the top 5 health benefits of adult martial arts that we have encountered the most at Budo Shingikan Dojo and they are as follows:
Increased coordination and flexibility
Being able to protect themselves and those they love
Let's look at each one in a little great detail with the goal of helping you decide if martial art training is for you. (caution: you'll definitely want to try it by the end of this article)
Improve Your Mental Health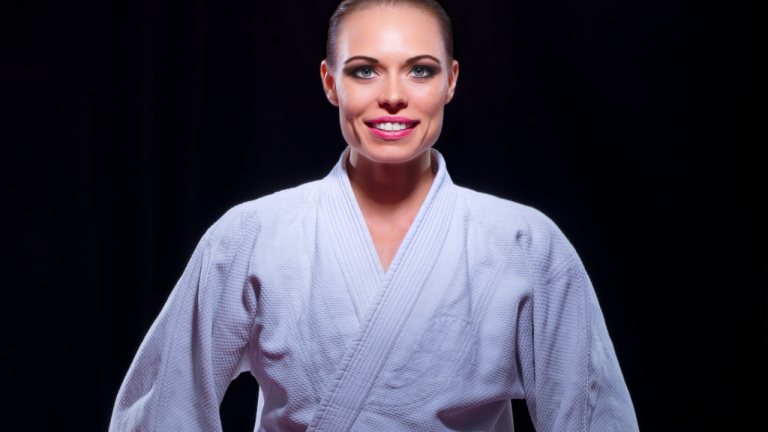 Whether you're a parent, single, married with no kids, etc. You have life bringing you all kinds of obstacles and challenges. If you work, you know this also comes with a certain level of stress. Lately, many adults have had to adjust to new work environments, parenting strategies, and in many cases balancing work, parenting/or domestic responsibilities all from home (because of the coronavirus).
The mental health of adults everyone has really been declining. Adults are reporting more issues of stress, anxiety, nervousness, and depression. If these issues don't get addressed it can have catastrophic effects on your job, relationships, and self-image.
Adults who train in our martial arts program find they are able to let go and deepen their focus on improving themselves. It's through mindful practice and controlled breathing, which comes from a level of intention, that aids in a person to positively influence their mental health. Our approach to martial arts training is different than most.
We think of it as more of a Personal Success Program. It's a journey, through the practice of martial arts, that leads to a better version of YOU. Reducing and even eliminating that which plague your mind, i.e. stress, anxiety, and depression.
Martial Arts Help Boost Confidence
When we think of confidence and how that relates to martial arts, adults tend to think of kids doing martial arts. However, what we have found is through conversation and uncovering the purpose for a person visiting us, they are in fact lacking in self-confidence. This isn't just an issue that children deal with.
Just look around and you'll see so many adults who talk negatively about themselves. They walk around with their heads down. They don't possess the confidence to even ask questions, whether it's at work, in an academic or social setting, or even with their spouse.
There are many consequences to a lack of confidence but let's talk about one very serious one since we're talking about martial arts. Bad guys tend to look for easy targets when they want to victimize a person for whatever reason. They look for a person they know will not put up a fight. A person who will cower with their head down. They are looking for a person who has little to no confidence in themselves. However, if you're a person who walks with confidence in public you have already greatly reduced your risk of becoming a victim while walking through a parking garage or parking lot.
This is what martial arts give adults. Rock-solid confidence. Confidence to ask for that raise, negotiate that deal, ask that lady out at your friend's cocktail party, and walk with your head up high (not looking like a victim). Confidence alone is worth its weight in gold.
Many people who come to us wanting to train in martial arts are half the time, out of shape. They can't do more than 4 push-ups, they can't do a few exercises without losing their breath but they don't let those things from keeping them from trying. That's why they started training in the first place. Let's face it. Going to a large fitness gym can be intimidating, overwhelming, and a bit monotonous.
Our students who have been consistent in their training have reported back having improved their heart health by lowering their blood pressure, resting heart rate, and recovery time. Not only that. They don't get "winded" near as easily when doing so sort of aerobic activity.
As we get older cardiovascular health becomes more and more important and after committing yourself to your training you tend to make better life choices to aid in your overall health and wellness.
Increased Coordination and Flexibility
As adults, maintaining/improving our coordination and flexibility is a great way to reduce our chances of injury. Have you ever been doing something at home, perhaps in the garage, and BAM! you pull a hamstring or a muscle in your lower back or something? Staying on top of your body's ability to move easily is another huge benefit to training in the martial arts.
Maintain our body's function of movement is a great way for us to improve our quality of life. Being able to pick up and play with your kids or grandkids sure is nice. Also, if you have to grab that heavy box off the top shelf of the closet or move evasively to avoid a falling object, without pulling a muscle, sure is nice to be able to do. Our bodies, like a vehicle, need maintenance if we want it to last and function for a long time.
Last, but certainly not least, self-defense. This is usually pretty high on people's list of why they want to train and is definitely a benefit to training consistently in martial arts. All of the above are related to self-defense, which I'll address in a different article, and it's our responsibility to have the skills and awareness to be able to protect yourself and others you care about.
The first part of being able to protect yourself is knowing how NOT to look like a victim which we covered in the first part of this article but it's also about prevention which is where awareness comes into play. Simply being aware of your environment and avoiding risky situations is the best way to protect yourself but it's also nice knowing you have the skills to back you up if you ever needed it.
In the end, any adult (or child) who decides to start training in martial arts has many benefits that will positively impact your life and chances are someone else is on a very similar path as you. It's great to be surrounded by others you know will encourage and support your journey.
In Oneness,
Kaiso