Brief History of KI Energy, an Eastern Perspective
A Brief History of Ki Energy from the Eastern View Point
KI Energy is explained as the unseen life force in your body and everywhere. It is a universal energy that penetrates everywhere and everything uniting all manifestations of the universe, visible or invisible.
In Japan it is referred to as "Ki", whereas in China it is referred to as "Chi" and/or "Qi" and in Sanskrit, it is known as "Prana". When cultivated, it can be used for healing, breaking, self-defense, or destructive purposes as easily as it can be cultivated for positive purposes.
Ki Energy as a Path to Healing
The healing arts include Acupuncture, Shiatsu & more specifically Kiatsu massage (acupressure), and in some circles has become very trendy such as the study of Reiki and Chi Kung.
These arts work with the Ki energy meridians throughout the body to clear stagnant or negative energy in the meridians or through special breathing and other exercises to cultivate Ki. Most healing with the use of Ki is basically centered on one of two things. Either you're removing a buildup of energy, or inserting energy within a place of the body it is lacking. It is more a study of balancing energy within the body and then using the proper waza to restore the balance of Ki within the patient's body.
Ki Energy Used in Self-Defense
In the same token, with regards to self-defense, a Budoka may use these same points to restrain or knock out an opponent. When utilizing your Ki for effective striking or breaking in the Martial Arts, you must first learn how to build up or cultivate your Ki energy, then lastly, is understanding how to exercise the cultivated energy so that the mind and body become one.
There are many different types of strength. The idea and production of KI energy rather than muscle becomes more beneficial as the Budoka ages. A Martial Artist who has learned this is also able to calm his mind, lower his center of gravity, and strike out with the additional power generated by his or her understanding of Ki.
Deciphering Ki Myth from Ki Reality
It is often overlooked, either because the 'gurus' out there make it more mystical than it really is, or they make insane claims of knocking people out without touching them, and the list goes on and on. Ki energy is a byproduct of posture body alignment (structure), in addition to breath control (Kokyu), and the joining of mind/body/spirit.
Without the physical structure as a conduit for Ki to flow through, it does nothing. In other words, understanding Ki, is understanding every aspect of the human body.
With proper breathing techniques, you can increase your strength than it's normal levels. Your strength can be broken down as:
Proper Breathing Help Release Ki Energy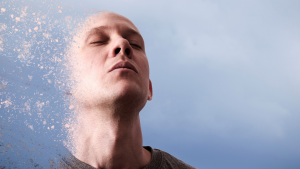 Patterned breathing serves as a bridge between mind and body. It is a way to bypass conscious thought. Patterned deep breathing will not only keep you calm and composed but will also liberate your KI and allow it to flow, making it available to use in a focused manner (Kokyu).
With the mind and body acting like one, you are able to tap into your KI Energy and direct it at will. The ancient Masters noticed that animals' reaction times were much faster than man's. They also had more endurance and were fiercer fighters. They could be quieter or louder. The ancient masters believed this was because the animals were more at one with themselves. The animals' Ki flowed undivided and focused exactly as intended. They came to the conclusion that animals possessed this unique ability because they weren't burdened with something that we all have: consciousness.
The Subtle Power of Ki Energy
That means that in animals nothing intervenes between stimulus and response, idea and action, and mind and body. Their breathing pattern was different than that of a man. Animals faced with danger composed themselves by taking a deep breath, then lashed out as they exhaled sharply. Many animal moves intrigued the ancient masters and some eventually became the basis for various Martial Art styles. Mostly in China. Japan made the connection between war, Ki, and nature in a much more subtle way.
Here is a good example of using one's Ki energy while taking a Zen approach to a situation: If I were to look at a large Uke/Tori and tell myself that I'm going to lift them, I wouldn't be able to because of the conscious thought to do it. But if a loved one or anyone for that matter was in danger, the ability to gain strength and get them to safety, because in an emergency I would have bypassed the conscious effort to do so. So you see… The conscious mind is the limiting factor.
Constantly reminding us of our physical limitations. The same intrinsic energy that allows you to have the extra physical strength in order to save someone in an emergency is in you all the time. Now granted understanding physics, and martial waza really does help, but if you were to connect to your own Ki reserve or knew how to bring forth Ki you'd have yet one more tool in your Budoka tool bag.
Join Us Today and Unlock Your Ki!
In Oneness,
Kaiso