Can Martial Arts Training Build Mental Fortitude?
Can Martial Arts Training Build Mental Fortitude?
In martial arts, there is a mental state of equanimity and imperturbability that comes with experience and aids the martial artist in their training and outside personal endeavors. It doesn't matter if you're a kid or an adult training in martial arts, mental training is a part of what you'll do.
This mental state is called, Fudoshin and is translated to mean immovable mind. Imagine having the mental fortitude that no matter what, there wasn't the slightest thought that you could not succeed. You want to be in the immovable mindset to complete a difficult but clear and uncomplicated task.
Immoveable…like a mountain and peaceful like it's streams.
In order to succeed, you need an unshakable will and that's just what martial arts training will give you. Let's say you want to stop snoozing your alarm in the morning. It's not complex, all you need to do is get out of bed. It is only hard because your mind is fighting an internal battle. You can talk in your head and try to reason all you want.
But, we all know that the only solution is action!
Don't Let Excuses Ruin Your Plan
How often do you plan a laborious activity in a fit of enthusiasm, but when it gets to the moment, you start making excuses? "I'm definitely going to the gym at 6 a.m. tomorrow." Or…
"Tomorrow morning rolls around and you lay in bed thinking, I trained hard last night so it's probably better I rest." You see this internal argument ends up taking long enough for your window of opportunity to pass.
Only to be replaced by something else that doesn't serve our greater goal. We've all been there from time to time.
Peaceful Structure of the Mind
The idea of being unstoppable is often associated with being angry. Like those jaw-dropping moments when Thor joins the battlefield or King Leonidas rips through the Persians. However, that's not what we are aiming for. We want to mirror their self-belief to tear through our problems and enemies, but extreme discipline and mastery of self are what is at the heart of Fudoshin.
Both of which you'll gain in your martial arts training, but it will take time. So be patient.
We want the sheer energy and enthusiasm but while maintaining a peaceful calm, immovable mind. Remember, Honor is woven into every aspect of Japanese martial culture.
A Lesson Taught by My Masters
The "god-like" masters of the old days whom I trained with never showed anger towards me. They moved with a majestic self-belief and, despite being 3 times my age, continually bested me again and again. Also, remember at that time I was dueling against a then 69-year-old Sensei, who grinned and often giggled at my struggle to keep up. He used to look at me and ask, "Am I the old man, or are you?"
Anger is the Enemy
I used to get so angry and frustrated at myself and even get lost in my lack of discipline. Sensei would always serenely throw in a few more for good measure. The lesson I learned? While anger may get you through some of your limits (sometimes), Fudoshin will take you much further in the dojo, in business, and in areas of your life.
In the alarm clock scenario, the anger comes after you need to rush to get ready. This anger only gives you negativity and does not help you to be who you want to be. On January 1st, look at how many people thought they were in Fudoshin. This time, they would complete their New Year's Resolutions, no matter what. Unfortunately, it's all too easy to fall out of this state of mind. And many will never act on their resolutions.
True Fudoshin is an irresistible will to reach our target that will bulldoze through any distraction, whether internal or external.
To learn more about the other benefits of martial arts for adults click HERE!
In Oneness,
Kaiso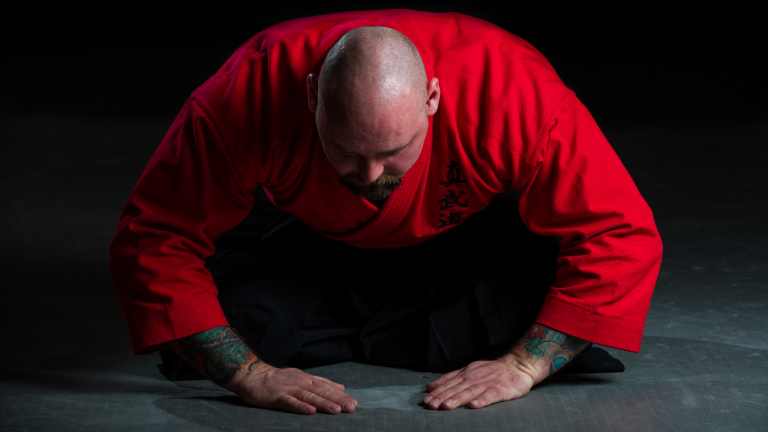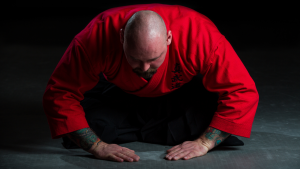 P.S. – If you're interested in our adult or kids' martial arts classes just click the "more info" button at the top of this page. We can't wait to see you!