Martial Arts and Fitness in Mesa Arizona
Martial Arts and Fitness in Mesa Arizona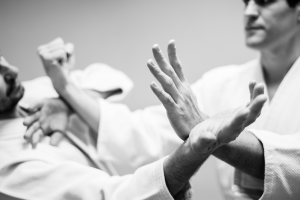 If you only think of Martial Arts Mesa as a means to defend yourself – think again. The many paths of Martial Arts promote a fit and healthy lifestyle that is difficult to find in any other fitness program. And, it's fun. You can definitely learn how to best defend yourself from attackers, bullies, and other harm, but health and fitness are the unseen benefits of martial arts that keep on giving. It's a combination of functional exercises that can protect you from danger and also keep you from becoming frail and losing your health.
What else makes Martial Arts Great?
Martial Arts are extremely well-suited to help you lose weight by promoting fat loss as well as improving your body composition. The functional movements used in our Martial Arts Mesa programs improve heart health, mobility and flexibility, strength, and spatial awareness. Aerobic workouts are the hallmark of martial arts and your total body will improve with the efforts. Every muscle group in your body will be part of the benefits — and stamina, balance and strength will be part of the outcome when you include Martial Arts as part of your fitness routine.
Working out in a martial arts regimen means that you're burning calories and getting rid of unnecessary fat. As an added bonus, you'll also notice after a while that your eating signals change so that you're alerted too when you're actually hungry and not when you're merely craving something that isn't good for you. A mere one-hour, moderate session of a martial arts workout can burn over 500 calories. Your heart is pumping at a rate that improves the heart muscle and burns fat at the same time.
Will Martial Arts Training Tone You Up?
Muscle tone comes naturally to those participating in martial arts workouts. Muscle mass helps to increase your metabolism and in turn, you'll burn more calories each day – even when you aren't working out. The increase in muscle mass will also help your flexibility and agility, so you're not as worried about debilitating falls as you age. You've likely been reading or viewing segments on how stress affects your life and how a regular exercise routine can help alleviate some of the damage it causes to your mind and body.
Studies have found that performing martial arts can relieve stress and anxiety and lead to a happier and more fulfilled lifestyle. Endorphins are the body's natural response to alleviate stress. These opiate, peptide chemicals produced by the body stay active for hours after an exercise session.
Revamp your thinking to include martial arts as a way to keep healthy and fit — and not simply the best method to learn how to take care of and defend yourself. Adopting a Martial Arts program that you enjoy can transform your life from fragile to fit and from being a victim to confidently defending yourself.
Come join us and feel the difference!
In Oneness,
Kaiso