Martial Arts and the Power of Adaptability
Martial Arts and the Power of Adaptability
One of the best qualities of a Black Belt is his/her ability to adapt. Adaptability is a powerful skill and one that every martial artist strives for. It's your ability to "flow with the go". When something unexpected happens you shift, change. If your environment changes you adjust. This is always happening in life.
Now, these changes can happen in a way that is both good for you or bad for you. Regardless of which one it is, nobody is immune to whatever the outcome is to their specific situation. This is why martial arts is the ultimate test of adaptability. Because when faced with an adversary his response, his actions are unexpected. You don't know HOW he'll respond and as a martial artist, you must adjust to that stimuli.
What to do with Personal Setbacks?
As we experience life setbacks will be a normal function of life. They happen from time-to-time. We get them and must face the reality of it. Now with that being said, how can you use what you have learned from your martial arts training and adapt to a negative experience?
In most cases, when a person experiences a setback, they usually are thinking, "Why is this happening to me?"
This is normal but this is more of a victim state of mind that is not conducive to anything productive. I would however encourage you to say instead, "Is there a silver lining to this, and how can I benefit from this experience?" I once heard a personal development coach reframe this question as, "Why has this happened FOR me?"
I love that perspective because it implies there is something more, something better, something to be learned.
Changing a Negative to a Positive
When you reframe this experience it changes your attitude. It now opens you up to the possibility of a learning experience. Because that's exactly what adaptability is. It's a chance at learning something new in the face of change. Just like martial art training, when someone does something you didn't expect you to adapt and usually discover something new about yourself or your technique.
Experiencing life's events as one big learning lesson helps us to better cope with the day-to-day challenges which may arise. Life is full of challenges and thus full of lessons. They're nothing to be frightened of.
Martial Arts IS Personal Development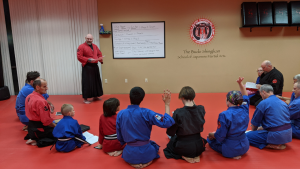 Our students at The Budo Shingikan Dojo have come to associate what we teach not just with martial arts and self-defense but will personal development. In fact, we think of what we do not just in the arena of martial arts but we like to call our school a "personal success facility" because that's what we aim to do.
Everything we teach is founded on being deliberate with our actions. And this is no different when it comes to being adaptable to change, challenges, or life experiences. If you want adaptability you need to be deliberate in your efforts and mindset.
You need to begin with the belief that "something good will come out of this, even if I don't have any idea what it is right now." Change the narrative, "why is this happening FOR me?" This belief sets your mind in the direction of discovering the potential good in the outcome.
This formula includes equal portions of "let it happen" and "make it happen."
You need to believe that there will be a positive outcome and you also have to work to create that positive outcome. When you combine that absolute belief and your very best effort, you'll be astonished how much positive change will occur in your life.
AND, others will take notice and it will have a rippling effect on those around you. So the next time something bad happens TO you, make a deliberate effort to change the narrative. Use your martial arts training to adapt to the change and ask yourself, "Why has this happened FOR me?" I think you'll really surprise yourself at the outcome.
Join our personal success program… we'd love to have you.
In Oneness,
Kaiso