What Makes a Black Belt?
Martial art movies haven't always portrayed martial arts in the best light and of course, we know it's not real but nevertheless, I'd like to explain one of the most important qualities of a black belt martial artist.
It's a quality that most think of when they think of kids martial arts but it's very much a quality that adults who begin martial arts training want to improve, for many different reasons. It may be personal or professional.  Regardless of the reason you simply can't become a black belt without it.
Self-Discipline Defines the Black Belt
As a martial artist this is at the core, the foundation if you will, of what truly makes a martial artist unique and most people would probably agree that this quality is up there on the list. When a person is self-disciplined they know what needs be done, and they simply do it. Without hesitation, without question, without argument, and they do it with focus.
Now contrast that with a person without self-discipline, who knows what needs to be done, but unless it's what they want to do, they more than likely will not do it, and thus… the task never gets done.
Martial Art Training Helps Build Self-Discipline
If you think about it. You can't move from one rank to the next without being committed to your improvement. Improvement can't happen without guidance, a plan, and accountability. Now, the accountability part, one would think comes from your instructors, and to some extent it does.
But a committed martial artist holds him or herself accountable and this commitment to themselves only gets stronger over time.
Without self-discipline, you will fail. You will not get to the next level and your shortcomings will be obvious. There is a little trick to developing self-discipline that's more of a "reminder" to yourself to stay the course and be committed to yourself.
The Road to Self-Discipline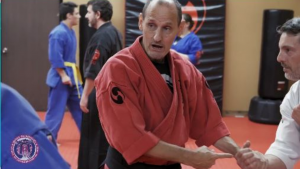 Self-affirmations can be powerful and useful for many areas of your life and the successful martial artist employs them as a way to keep align the mind. Allow me to explain. One of the many things martial arts teaches is simplicity. We don't believe in any wasted movements. Thus, we approach our commitment to ourselves in the same manner.
The concept "My Word Is Law" is probably the simplest way to help develop self-discipline. "My Word Is Law" means that no matter what, you will be fully dedicated to doing the things that you say you will do for yourself. Yes, you want to keep your word to others but this is about keeping your word to yourself. Without first developing this you can't keep your word to anyone else.
The Secret to Keep Your Word to Yourself
When using the "My Word is Law" principle, you must first only commit to the things you truly intend on doing. This is the first step in finding success in building self-discipline. This means you will be saying 'no' to many things. You'll be saying no to things you would have normally said yes to in the past. For example, if you would normally have gone out with friends and stayed out late partying maybe now you pass on those invites knowing that you have one of the most important tests ahead of you that you have been prepping for, for the past couple of months.
Lastly, it's absolutely key to follow through with whatever you commit to doing. If you use this principle, you'll notice a substantial difference in your discipline. You notice that you are reaching more of your goals, you'll be happier, you'll be more satisfied with the direction your life is heading, and you'll be proud of the work you put in to get to where you really wanted to be.
Ultimately, martial arts is about making a promise to yourself that you will put in the work to carry out whatever goals you have for your health, wellness, skill, and mindset.
Reflect on Your Accomplishments
Self-discipline is something to be proud of because you can look back on all your accomplishments with a sense of pride knowing that you did everything to reach your goals. If you have children they will see this quality in you and will emulate it.
This is one of the best ways to influence people. When a martial artist demonstrates this level of self-discipline, it's inspiring.
At the Budo Shingikan Dojo, we create an environment that helps foster the qualities of a Black Belt in our students.
If you're ready to take your personal and professional goals to the next level then let us help you sharpen your blade of self-discipline?
Join Us Today!
Kaiso